1 hour show
Magic Den will arrive 15 mins before start time to set up and will normally include a half hour interactive fun magic show, 15 mins of fun games with prizes and 15 mins of balloon modelling.

2 hour show
Magic Den will arrive 15 mins before start time to set up. He will then make balloon hats for the kids as they are arriving, normally 10-15 mins.


He will then perform a 45 min fun filled interactive magic show where the birthday child is the star and gets to help out with a few tricks.

The kids can then have their snacks etc (15 mins) while Den tidies up and gets ready for the games. When the food is over, he will get the kids to gather round for the cake and to sing happy birthday. This will be followed with the games which are fun dance competitions etc and he will supply the prizes (15 mins ). To finish, Den will try to make sure every child gets a balloon model to take home and by this time the parents will be arriving to pick up their kids.

3 hour show with disco
More suited to older kids 9+ this is the 2 hour show but with the addition of a professional disco set up with lights, music etc.

Weddings
Den can provide a complete package of some strolling close up magic to keep your guests entertained whilst the bride and groom are having their photos taken.

He can then do some fun magic and balloon modelling for the kids later on to save them from getting bored. Why not have Den provide the Disco for your wedding.

You can book Den for all or any one of the above to help make your day extra special.

Christenings and Communions
This can be a one or two hour show and you can choose between close up table magic or the more popular and most requested stand up family magic show and can include games and balloon modelling.

Christmas parties and other events
Again this can be a one or two hour show with a festive theme and is suitable for schools. Bowling clubs, golf clubs and office parties etc.

Nurseries and Schools
For nursery classes Den provides a fun colourful magic show aimed at 3-5 year olds. For schools he can cater for individual age groups or a fun show that suits p1-p7 inclusive.

Magic Lessons
Magic Den can teach some fun magic to scout groups, brownies, school etc.

This can be a one off class where den will teach the kids to do a few cool tricks to impress their family and friends with.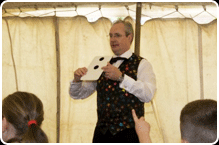 Or it can be a structured course for whatever time scale required.

This is a great way to build confidence in a fun friendly relaxed environment.

The magic class can also be for birthday parties suitable for 9+. Here magic den will perform some of his own magic and then go on to teach everyone to do some tricks of there own and will provide print outs for the kids to keep so that they won't forget what they learned..

Please feel free to contact den with any questions you may have regarding his magic class.

Additional info
Magic Den will supply the music, prizes and balloons for all shows.

Where there are too many kids to do balloon modelling Den will incorporate some balloon modelling into the magic show so that some of the kids will have balloons.

There is no extra charge for the amount of kids invited. The more the merrier.

Free invites if required (see sample).

Magic Den will use his experience to perform tricks suitable for the age group present.

Den is also available for corporate work and product launches etc please feel free to enquire.